Systems

Exterior walls in different wood infill panels 32 mm or 38 mm thick with tongue and groove joints, laid horizontally, floor finish in 38 mm thick Denya wood

Fibre-cement corrugated sheets impact-resistant, available in many different colours

Ventilation in the ridge area

Roof pitch approx. 13 °

Ridge skylight

Gable and eaves sides with timber infill
Exterior walls in Douglas wood or Denya 60mm thick with tongue and groove joints, laid horizontally, floor finish in Denya wood 60mm thick

Trapezoidal profiled insulated roof panels 100mm thick. Thanks to its thermal insulating properties, it keeps the heat inside the building in the winter and protects against heat in the summer

Steel beams and steel purlins. Steel is the best raw material for barn construction – it is more durable than wood and highly resilient. Thanks to its physical properties, it is structurally strong and therefore very stable. Unlike a wooden construction, the steel construction does not bend or deform. Therefore, the entire barn construction including the roof is made of steel and protected against corrosion. This ensures that the roof remains watertight for many years

Light ridge approx. 2.0m wide (polyester reinforced with acrylic glass, frosted view), durable skin UV and ammonia resistant. Wide light ridge effectively illuminates the building with natural light, which is very important for the animals' well-being

Eaves and gable walls with a light strip approx. 0.5 m high of 10 mm clear cellular polycarbonate

Roof pitch approx. 13° (gradient can be reduced if necessary)

Ventilation in the ridge area
Gallery

Horse barn

When designing our stables, we prioritize the welfare of horses and the comfort of their caretakers. Our goal is to ensure that the stables provide a healthy and safe environment for horses throughout the year, regardless of weather conditions. Key considerations include the use of natural materials, appropriate cubic capacity, and efficient ventilation. Our company's buildings successfully meet all these challenges.
The outer walls of our stables have a height of 3 meters, adhering to the guidelines of the German Riding Association (Deutschen Reiterlichen Vereinigung) to ensure sufficient volume within the building. Ample natural light is provided through a selection of skylights that are strategically placed based on the stable's specific location. A special ventilation system integrated into the ridge of the building ensures a constant supply of fresh air, preventing any stuffiness within the stables.
To create a natural environment, the walls of our buildings are constructed using a combination of steel and wood. The incorporation of natural wood allows for breathability, mimicking the conditions found in nature where horses feel most comfortable. Moreover, the roofs of our stables are made of 10cm sandwich panels, offering superior insulation. This thickness of insulation surpasses industry standards, ensuring optimal temperature control throughout the year, even in extreme weather conditions.
Durability and resistance are paramount for our long-lasting buildings. To address concerns related to bending and potential unsealing of roof panels over time, we have made the decision to utilize steel battens and beams in all our structures. This approach, although unconventional, mitigates the aforementioned issues, ensuring the stability of the composite panel roof. Each of our buildings can be fully customized, both internally and externally. We provide built-in features for social areas, feed storage, and stables with trusses instead of posts, facilitating easier maneuvering of machinery. Additionally, a wide range of windows, doors, gates, and paddocks are available to create your dream stable.
Sedle room
Hay storage
Grooming
6x box
Overview of the technical details of the Remtor horse barns
Modular construction
Documentation and certificate DIN 1090
Technical drawing 2D view
Foundations plan
Static calculation – our projects are adapted to the corresponding snow load zones
Horse barn with centre-aisle
The standard width of the stable aisle is 3.0m – other widths of the stable aisle are also possible as an option
At the customer's request we build horse barns in L or U shape
Any type of internal stable or partition
The standard stall dimensions are 3.0m x 3.0m; 3.5m x 3.5m; and 4.0m x 4.0m – optionally we can also manufacture in other dimensions
We also build barns with internal stables and an integrated feeding pen
Manure removal system – pull-out partitions
Saddle room, grooming area, hay storage, feed storage
Stable windows, paddock doors, paddocks
Sliding gate at entrance and exit, single or double, with skylight or solid wood infill
A wide, light ridge in a pitched roof
Various roof coverings
Trapezoidal profiled insulated roof panels 100mm thick. Thanks to its thermal insulating properties, it keeps the heat inside the building in the winter and protects against heat in the summer
Fibre- cement corrugated roof panels, impact resistant
Trapezoidal sheet with anti-condensation coating
Roof covering available in many different colours
The eaves height of pitched roof stables is 3.0 m (according to German FN guidelines) – other heights are available on request
Extended roof canopy on steel column supports
Ventilation in the ridge area
Diagonal bracing (wind bracing) hot-dip galvanised
Columns 80x80mm thick; solid base plates 12mm thick; heavy-duty fastening
All steel parts hot-dip galvanised according to DIN EN ISO 1461 (hammerblow coating on request)
Rainwater gutters and drainage pipes made of titanium zinc
Sealing between external walls and concrete slab
Various wood fillings 32mm or 38mm thick, Denya and Douglas pine 60mm thick with tongue and groove, laid horizontally; floor finish of Denya wood 38mm thick
Warranty and post-warranty service
We manufacture our horse stables in Poland, in accordance with the German FN guidelines
Sandwich panels (100mm thick)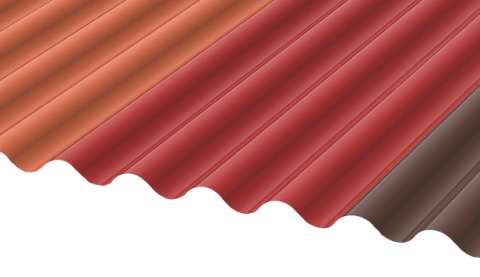 Fiber cement corrugated sheets
Trapezoidal sheet with anti-condensation coating
Roof colors

Infills

BOARDS

PVC Boards